Conferences
In addition to regularly scheduled rounds and conferences offered by the specialty services through which the residents rotate, the following rounds and conferences are organized by the program:
Ambulatory Care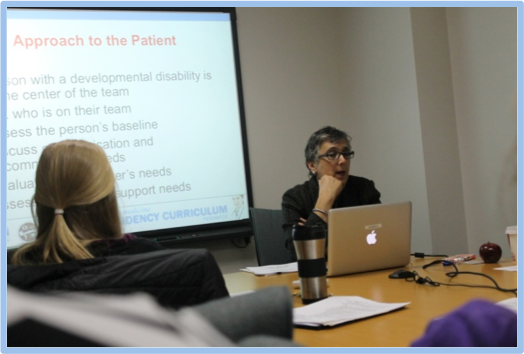 A core curriculum of ambulatory care topics is taught over a 2-year cycle in weekly half-day didactic sessions. These conferences address common problems seen in the family physician's office, as well as behavioral health, health systems management, evidence-based medicine, preventive medicine, and refugee and asylum care. Conferences take place at Georgetown University School of Medicine, Providence Hospital and Fort Lincoln Family Medicine Center, with simulation-focused conferences at Medstar Health Simulation Training and Education Lab (SiTEL).
Noon Conferences
These resident-run conferences are held twice a week at Fort Lincoln Family Medicine Center and provide an interactive discussion of timely Family Medicine topics in an informal setting over lunch.
Evening Report
Our preceptors have diverse clinical backgrounds. At the end of each afternoon patient care session preceptors at Fort Lincoln Family Medicine Center are encouraged to either supervise a resident-led discussion of a topic, condition or case or lead the case discussion. Evening report (chart rounds) is held daily following the afternoon office session. These sessions are an opportunity for presentation and discussion of interesting clinical problems encountered that day, and evidence-based management options.
Journal Club
Journal Club is a resident-led, faculty facilitated discussion on a critically appraised topic from a clinical question chosen by the resident. Our residents participate in the Family Physicians Inquiries Network, publishing evidence-based answers to clinical questions in Evidence-Based Practice as part of the curriculum in evidence-based medicine and medical informatics. The curriculum fosters skills in critical appraisal of medical literature and how to practice and teach evidence-based medicine.
Family Medicine Rounds
Patients admitted to our inpatient service are from Fort Lincoln Family Medicine Center, Unity Health Care, Community of Hope and several partner family medicine practices. The inpatient team is composed of at least one first, second and third year resident and Family Medicine faculty. The team provides inpatient adult, obstetric and newborn care. Inpatient team rounds feature academic rounding experiences in addition to daily teaching rounds, including: 1) Monday morning senior resident case presentation; 2) Tuesday morning Geriatrics Rounds; 3) Wednesday morning Radiology rounds; 4) Friday morning EKG/OB strip rounds; 5) interval team rounds with the pharmacy team; 6) interval team rounds with an EBM intern.
Resident Wellness Conferences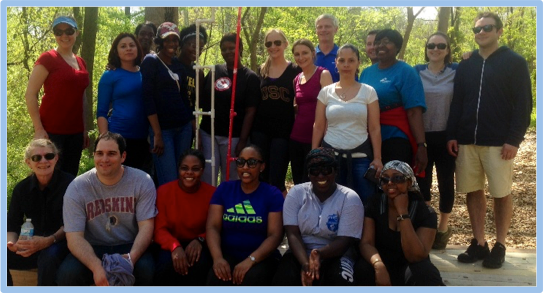 Individual wellness assessments with a clinical psychologist help residents plan for a balanced experience. Monthly group sessions with a clinical psychologist are scheduled opportunities to provide peer support, and have a facilitated discussion on various aspects of the residency and patient care in confidential settings. Chief Residents also facilitate regular intern wellness sessions.
Resident and Faculty Retreats
Semi-annual retreats are held at off-site locations to allow the residents, staff and faculty to participate in team-building activities and ongoing review and enhancement of the residency program.