Curriculum
Our curriculum consists of a well-integrated combination of longitudinal, block and didactic experiences to provide optimal training opportunities in the full scope of Family Medicine. We encourage the development of skills for lifelong learning in a structured environment with appropriate supervision. Family Medicine faculty are the backbone of the teaching program, and other specialists are appropriately involved as both supervisors and didactic instructors. Teaching occurs daily in both the inpatient and outpatient settings, and the free exchange of ideas, information, and clinical reasoning is an integral part of the program. We encourage our residents to participate in the design and evaluation of the curriculum.
PGY-1 (1-2 half days per week in Family Medicine Center)
PGY-2 (3 half days per week in Family Medicine Center)
PGY-3 (3-4 half days per week in Family Medicine Center)
Family Medicine Outpatient Month
---
The residents spend their first month in "intern orientation". This month provides our incoming residents with important skills to maximize their success during their internship year. The month is a combination of didactic lectures, certifications including ACLS, and NALS, hands-on procedure training, and outpatient medicine. The month is carefully constructed to cover a wide range of topics including the most common outpatient clinical presentations, preventive medicine, practice management, and inpatient medicine. Residents begin seeing patients, learn about billing and coding, and are introduced to the clinical team that they'll work with for the next three years. This month allows our new interns to become familiar with each other and with their outpatient clinical home, Fort Lincoln Family Medicine Center, providing a strong foundation for the inpatient rotations that follow.
Two months of the PGY-1 year are spent working on the Family Medicine Inpatient Service. This team can include a third year student, an acting intern, one PGY-1, one PGY-2, one PGY-3, and an attending. The team's primary responsibility is to take care of patients admitted to the hospital from the Family Medicine practice. In addition, the team also takes care of patients from Unity Health Care, Carroll Manor Nursing Home, babies from a local mother and infant home, and delivers OB patients seen at the Family Medicine Center. This makes for a busy service with a wide variety of patients. The setting for the rotation is Providence Hospital, a well-equipped community hospital in Northeast, D.C.
The PGY-1 is responsible for collecting data on new and previously admitted patients and presenting to the team. The PGY-1 is also deeply involved in day-to-day management of inpatients, OB patients, newborns, discharge planning, and evaluation of possible admissions in the emergency department. Interns work independently and with the support of the team. This creates the confidence and experience for strong inpatient skills. Procedures learned include lumbar puncture, thoracentesis, paracentesis, vaginal delivery, intrauterine pressure catheter and fetal scalp electrode placement, and circumcision. Morning report occurs daily with the Family Medicine attending and team, a PharmD, and includes reviewing relevant films and studies firsthand. Radiologists are always available for film reading and discussion.
Each resident spends one month on the Cardiac Care Unit (CCU) during the intern year. The CCU team consists of the intern, a senior internal medicine resident, and a cardiology teaching attending. Rounds are made daily with the teaching attending to discuss all the patients on the service and to do didactic teaching. Additional teaching is provided periodically throughout the month by Dr. Pinder, a cardiologist who is regularly recognized by the residents for his commitment to their education. During the CCU month, the residents become confident managing seriously ill patients, reading EKGs, placing central lines, interpreting invasive cardiac monitoring, and running a "Code Blue".
The interns all spend two months on the busy obstetrics service at Providence Hospital. Two half-days per week are spent seeing patients in The Center For Life which is the Obstetrics and Gynecology clinic at Providence Hospital. The majority of these patients are presenting for prenatal care, but the interns also see women for their postpartum exams and gynecologic complaints. The remainder of the week is spent on Labor and Delivery managing laboring patients and complications of pregnancy. The interns work one-on-one with the obstetrics attendings, but are given a significant amount of autonomy based on their experience. The interns also have the opportunity to interact with nurse midwives to learn the midwifery approach to maternity care. By the end of the first year, each resident will have a minimum of 40–50 deliveries and be comfortable with episiotomy, 1st and 2nd degree laceration repair, first-assisting at Cesarean section and circumcision. In addition to the hands-on experience during the OB rotation, all the interns have the opportunity to take the "Advance Life Support in Obstetrics" (ALSO) course.
Longitudinal experience in obstetrics begins following the first month of the obstetric rotation and continues for the remainder of the residency. This involves the management of prenatal patients at the Family Medicine Center as part of each resident's patient panel. The labor and delivery of these patients will occur at Providence Hospital by the patient's primary provider under the supervision of Family Medicine faculty. The Family Medicine residents are also given the opportunity to co-manage the labor and delivery of patients from private Family Medicine physicians in the community including those at Unity Health Care. Second and third year residents, in conjunction with Family Medicine faculty and a family nurse practitioner, manage the prenatal clinic at Community of Hope, a community health clinic in Washington, D.C.
Pediatrics at MedStar Georgetown
During the intern year, residents spend two months on the pediatric wards at MedStar Georgetown University Hospital. Residents are assigned to a pediatric medical team for the month and take team call on average every fourth night. An upper level resident and the pediatric ward attending supervise interns throughout the month. Morning rounds are conducted daily with the team. There are also daily noon lectures and weekly radiology rounds conducted by a highly respected pediatric radiologist routinely recognized for outstanding teaching. Residents enjoy the opportunity to evaluate and treat the broad spectrum of medical illnesses seen in a university setting, ranging from asthma to rare childhood illnesses.
Each intern spends one and a half months working with Washington, D.C. surgeon, Dr. Pedro Ceppa. Dr. Ceppa's diverse, general surgical practice offers the residents a rich environment to hone their surgical skills as well as to learn pre- and post-operative management. The resident scrubs with Dr. Ceppa on all his cases, large and small, from simple excisions to cancer surgery. The resident's responsibilities in the OR progress throughout the rotation as their skills improve. By the end of the first month, the interns are independent with suturing and some small cases. Between and after the surgical cases, Dr. Ceppa rounds on all the inpatients with the resident and provides extensive didactic teaching. Two-half days per week are spent seeing outpatients with Dr. Ceppa: one at his Providence Hospital office and one seeing surgical patients at the Family Medicine Center
Residents participate in a one month rotation in the Walter Reed National Military Medical Center emergency department. Residents evaluate and manage a range of illnesses from minor to severe. Residents see patients independently under the supervision of the emergency room physicians. Residents learn a wide variety of procedures, as well as gain confidence in evaluating and treating a diverse group of patients and clinical presentations.
Interns work as part of a team caring for inpatients at Providence Hospital. The diverse patients on the service are patients of a Providence Hospital Internal Medicine Attending or patients without a regular doctor. Residents report that they have a lot of autonomy to care for them. Residents round daily with their team of upper year residents and their attending. In addition, there are many venues for structured teaching include morning report, teaching rounds, and daily lunchtime talks.
Residents spend 6 weeks in the intensive care unit at Providence Hospital. Residents manage up to 6 patients under the close supervision of a team of intensivist physicians dedicated to resident education. Residents do many procedures during this rotation including becoming comfortable with line placement and ventilator management. Residents round twice a day with the intensivist physicians and always rate the teaching in this setting as outstanding.
Residents split one month between working one-on-one with neonatologists at Virginia Hospital Center in Northern Virginia with additional one-on-one time with a surgeon at Providence Hospital. Residents enjoy this experience, because they get to focus and polish their skills in caring for newborns. Residents emerge confident in their newborn care skills as well as in their ability to recognize and manage symptoms of sick newborns and to resuscitate neonates. The surgical portion of the month is spent at Providence Hospital enhancing surgical skills. Please see surgery description above.
---
As a PGY-2 and 3 on the Family Medicine Service, you are in charge of a busy inpatient service. With support from your attending, PGY-1, and medical students, you are responsible for managing the wide variety of problems that a Family Physician cares for in the hospital. Typical responsibilities include evaluating new patients in the emergency department, working up admissions, continuing management of medical inpatients, managing laboring patients on labor and delivery, and their newborns. You learn and help direct "big-picture" management, assessment, and discharge planning, and have a large role in your residents' and students' education.
One senior resident described Dermatology as "my favorite rotation of second year." The rotation's focus on teaching and hands-on experience is what makes it valuable. Set at the Washington, D.C. Veterans Administration Hospital, attendings and residents in Dermatology provide supervision for patient care and procedures. Procedures taught include cryosurgery, curettage, KOH prep, and excisional, shave, and punch biopsies. Additionally, there is exposure to plastic surgery techniques and larger excisions.
The outpatient cardiology rotation is completed during the second year with Capital Cardiology Consultants at their Providence Hospital office. The cardiologists in the group are regularly recognized by the residents for their outstanding teaching. During the rotation, the resident sees patients independently, usually new consults, and then precepts directly with the attending cardiologist. Physical examination of the heart, especially auscultation and EKG reading, are emphasized. The residents also have the opportunity to participate in exercise treadmill testing, cardiac catheterizations and echocardiograms.
Residents gain additional training in Nephrology and Urology during this split rotation. In the Urology component of this rotation, residents rotate in the office of two local Urologists with strong interests in teaching. Residents learn about common Urologic complaints in both men and women, including: incontinence, impotence, BPH and prostate cancer. In the Nephrology portion of this rotation, residents learn about common renal disorders. Residents work with a Nephrologist that is widely recognized for her excellent teaching skills.
Residents have excellent exposure to inpatient and outpatient psychiatry during this one month rotation. The rotation combines time working with the inpatient psychiatry consult service at Georgetown University Medical Center and seeing patients at Fort Lincoln Family Medicine Center for outpatient consultations. Psychiatrists are on site at Fort Lincoln Family Medicine Center twice a week, allowing for ideal continuity of care for our patients with mental health issues. The presence of psychiatrists also allows residents to "curbside" consult regarding their patient management of mental healthcare. This creates a strong teaching environment in the area of mental health.
Residents gain additional specialty experience in orthopaedics and sports medicine in a rotation with time split between these two areas. Residents work in the orthopaedic clinic at Fort Belvoir, a military base in Virginia. This allows exposure to a physically active population with acute injuries, and can scrub into surgeries. In the sports medicine component of this rotation, residents rotate at the Georgetown University Sports Medicine Center. Here, residents develop an understanding of the principles of exercise physiology and learn how to include fitness counseling into health maintenance.
The Ophthalmology and Ear, Nose and Throat (ENT) rotations are done simultaneously during the second year of residency. Three half days per week are spent on Ophthalmology, three at ENT and the remainder of time is spent at the Family Medicine Center or didactics. For the ophthalmology experience, the residents rotate at the Capital Eye, a private practice at Providence Hospital. The residents have the opportunity to work with general ophthalmologists and subspecialists seeing patients in the areas of cataracts, retina, and glaucoma. In the beginning of the rotation, the teaching is focused on mastering ophthalmoscopy and becoming comfortable with the slit lamp. During the rotation, the residents progress to using the lenses for a detailed retina exam and learn to write and interpret ophthalmology reports.
The ENT portion of the rotation is done at Walter Reed Army Medical Center in Washington, D.C. This unique experience allows residents to see patients at a worldwide referral center under the supervision of nationally known experts. A wide variety of problems are seen including pediatric, adult and plastic surgery patients. While at Walter Reed, the residents become part of the ENT team seeing patients independently and then precepting directly with the ENT attending. Valuable skills learned during this rotation include nasolaryngoscopy and radiographic correlation of physical exam findings.
Our program includes two month long rotations in a Pediatrics subspecialty outpatient clinic of your choice, usually at Georgetown or Children's National Medical Center. The residents spend five half days a week at the elective site and four half days at the Fort Lincoln Family Medicine Center. Many residents use this time to increase their exposure to pediatric specialties they believe will fine-tune their knowledge base in pediatrics. Some favorite subspecialities are Pediatrics Dermatology and Pediatrics Allergy.
Residents participate in a one month rotation in the Providence Hospital emergency department. The emergency department is divided into subacute and acute areas. This allows the resident to evaluate and manage a range of illnesses from minor to severe. Residents spend time in both areas of the emergency department and see patients independently under the supervision of the emergency room physicians. Residents learn a wide variety of procedures, as well as gain confidence in evaluating and treating a diverse group of patients and clinical presentations.
---
As a PGY-2 and 3 on the Family Medicine Service, you are in charge of a busy inpatient service. With support from your attending, PGY-1, and medical students, you are responsible for managing the wide variety of problems that a Family Physician cares for in the hospital. Typical responsibilities include evaluating new patients in the emergency department, working up admissions, continuing management of medical inpatients, managing laboring patients on labor and delivery, and their newborns. You learn and help direct "big-picture" management, assessment, and discharge planning, and have a large role in your residents' and students' education.
Our program includes a multi-disciplinary rotation in Geriatrics, as well as longitudinal nursing home and home care experiences directed by our faculty. During the one month rotation, residents work with geriatricians who are board certified in both geriatrics and internal medicine or family medicine. Residents spend four half days a week seeing geriatric patients with the geriatric attending one-on-one in the Geriatric ambulatory clinic. Residents perform Geriatric Initial Assessments on patients and experience a multi-disciplinary team approach to assessing and managing patients. Participation in the Geriatrics rotation also includes teaching in the sub-acute unit in the state-of-the-art nursing and rehabilitation center, completed in 1996, rounding at a community nursing home and didactic teaching rounds by the faculty.
The longitudinal component includes monthly nursing home visits on longitudinal patients under the supervision of the geriatric attending. Additionally, residents learn to provide home care to one or two patients under the direction of our home visit program attending. During this rotation, residents are exposed to the core aspects of geriatrics with the goal of obtaining the ability to function independently doing home care, nursing home visits and geriatric assessments on their future patients.
The Orthopaedics rotation occurs in the office of a well-respected community Orthopaedist and partners. Residents see common musculoskeletal and sports medicine problems, learn office procedures and injections, and improve their musculoskeletal exam skills. The office has in-house X-Ray and residents improve their X-ray reading skills for bones and joints. Residents also round weekly in the hospital, and have the opportunity to scrub into surgeries. This experience is complemented by two weeks working in a military Orthopaedics setting, where care is provided for acute injuries and fractures.
Our program includes a one month rotation in the emergency room at Children's National Medical Center in Washington, D.C. Residents spend 24 hours per week evaluating pediatric patients in the emergency room under the direct supervision of a pediatric emergency room attending. Residents experience a broad range of medical cases and are able to participate in numerous hands on procedures like suturing, casting, splinting, lumbar puncture and bladder catheterization.
Residents are required to do one rotation in a Subspecialty of Internal Medicine during the PGY-3 year. This provides an important opportunity for residents to deepen their knowledge in Medicine. Residents may rotate at private offices or any number of local hospitals that could include Providence, MedStar Georgetown University Hospital, and The MedStar Washington Hospital Center. Recent rotations have included Nephrology, Rheumatology, Allergy and Immunology, Pulmonary, Endocrine, and Neurology. One of our most popular elective rotations is with Providence Nephrologist, Dr. Kamajit Sethi, who recently received a teaching award from our residents.
The Community Medicine rotation is carefully structured to provide residents with a unique experience in the healthcare of underserved residents in Washington D.C. through a combination of didactic seminars, hands on development of new programs at a Community Health Center, and clinical participation on a Care Management Team at the same Community Health Center.
Weekly didactic seminars with experts in the field of community medicine introduce the residents to the topics of Community Oriented Primary Care, Health Behavior Change, and Community Resources. Readings and learning assignments accompany each of these seminars optimizing the learning experience and providing the resident with a thorough knowledge base that can be readily applied in the clinical setting.
Residents work as part of a team providing patient care at a Community Health Center during their block rotation. The residents complete a Community Oriented Primary Care project as a team, addressing the healthcare needs of the patient community of the Community Health Center.
The combination of the block experience in Community Medicine along with the longitudinal Community Medicine experience described elsewhere (see "Longitudinal Curriculums") provides residents with an exceptional overview of Community Medicine concepts and their practical application to benefit high risk patients in the District of Columbia.
The one month gynecology rotation is done in the third year at the busy Virginia Hospital Center GYN practice. The residents spend 3 half days per week being precepted one-on-one at this site. In addition, the residents spend one half day per week seeing gynecology patients and doing procedures at the Center For Life clinic at Providence Hospital under the supervision of Dr. Mejibi Mayor. It is estimated that approximately 30% of the patient encounters in the Family Medicine Center are for gynecologic complaints. Therefore a large amount of gynecologic teaching involves one-on-one precepting in the Family Medicine Center during the course of the three-year residency. Additionally, there are two Colposcopy Clinics held each month at the Family Medicine Center during this rotation. During this time, residents gain intense colposcopy experience being precepted one-on-one with a Family Medicine faculty member.
The elective months allow each resident to tailor their education according to their interests and long term career goals. Residents can choose to work with Providence Hospital and MedStar Georgetown physicians for additional training in subspecialty areas including radiology, nephrology, neonatology, cardiology, gynecology and gastroenterology, among many others. Residents also can use their elective time to strengthen skills in obstetrics, sports medicine, and procedural skills. Washington D.C. provides limitless possibilities for residents to explore additional interests including rotations with a well established HIV clinic, alternative medicine practices, health policy centers, and community health centers. With pre-approval, residents can utilize away rotations to seek experiences not available in the Washington D.C. area.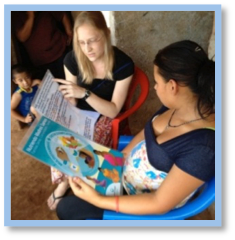 Global Health Track
Our global health scholars learn about sustainable development and project management in international settings as part of our Family Medicine Department's Global Health Division. Goals of the track include understanding and engaging in the study of health disparities around the world; enhancing residents' knowledge, competencies and skills related to global health practice, education and service delivery; and developing future leaders in academic family medicine through global health stewardship. Our 2012-2015 scholars have been to El Salvador and Vietnam for focused projects.
The Health Policy Scholar Track includes multiple opportunities to learn about and explore organizations and agencies in the DC Metro area.  There are 7 required elements, including online modules by the Association for Preventive Teaching and Research and the Society of Teachers of Family Medicine, one 2-week and one 4-week health policy elective, attending the Family Medicine Congressional Conference, teaching first year medical students in the Patient, Populations & Policy course, and presenting a scholarly activity project to the residency, and regionally or nationally.
The Obstetrics Track was developed to recognize our residency history of supporting the DC obstetric community with a strong emphasis on obstetric deliveries.  The track includes longitudinal roles in our Obstetric department, additional ultrasound training, deliveries and C-Sections, and participation in ACOG Bulletin and Breastfeeding Coalition committee activities.  We also support residents in Advanced Life Support in Obstetrics Instructor courses to teach ALSO to our new interns.
Residents as Teachers Curriculum and Track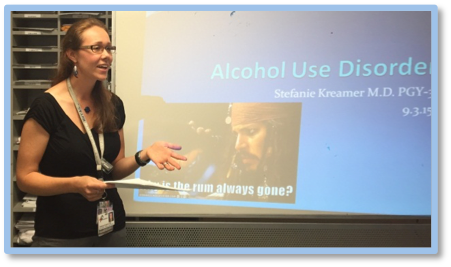 Faculty development and scholarly activity are important focus areas for the Family Medicine department. Our Residents as Teachers curriculum trains residents in mentoring and giving feedback to peers and medical students. To develop teaching skills, residents are assigned monthly Journal Club, Radiology and Family Medicine inpatient case presentations as 1st, 2nd and 3rd year residents.  Residents are also paired with 1st through 4th year medical students in outpatient and inpatient clinical settings to further develop teaching, supervisory and evaluative skills. For residents considering careers in academic medicine, the Residents as Teachers Track requires co-leading small-group teaching for 1st and 2nd year medical student courses, such as Evidence-Based Medicine, Patient Populations and Policy, and Doctoring Selectives with faculty mentors. Faculty development electives are also available.
Adolescent medicine is an integral part of family medicine training. In addition to longitudinal didactics and ongoing continuity of care for adolescent patients at Fort Lincoln, residents rotate in multiple sites for focused experiences.  Second year residents rotate in adolescent medicine with fellowship trained Family Medicine and Pediatric faculty at Walter Reed National Military Medical Center and Unity Health Care's school health program at Ballou High School in Southeast D.C. Adolescents are included in resident patient panels, and residents complete population management projects targeting adolescents during their block rotations.  Fort Lincoln hosts 2 summer School Physical Days per year to help school-aged children meet health requirements for school attendance.  Residents also participate in an Athletic Sports Physical Day at Providence Hospital as a free service to the community every summer.
In addition to the patient communication curriculum, residents learn evaluation and management of common psychiatric illnesses alongside family medicine faculty, a psychiatrist and clinical social worker. A behaviorist was added to the faculty team in 2014, and another family medicine faculty member participates in the Society of Teachers of Family Medicine Behavioral Science-Family Systems Educator Fellowship.  Planned curricular updates include additional mind-body medicine workshops and wellness activities for residents, and implementation of an integrated primary care model at Fort Lincoln Family Medicine Center. Residents participate in a block rotation in Psychiatry at Georgetown University Hospital including outpatient consultations, individual and group therapy.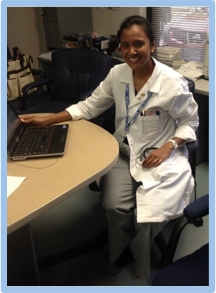 Community Medicine Curriculum
Our community partners, Unity Health Care and Community of Hope, help create longitudinal and block rotation experiences in Federally Qualified Health Centers in community medicine, adolescent medicine, obstetrics and gynecology.  Our residents take care of Community of Hope, Unity and Fort Lincoln patients on our inpatient services, providing coordinated care to our underserved, uninsured and underinsured patients. Block and longitudinal rotations at FQHCs provide services to our patients in correctional health care, HIV care, maternity care, obstetric deliveries, post-partum care and gynecologic procedures. Our partnership with the Association of Clinicians for the Underserved has produced curricular initiatives to improve training in cultural and linguistic competence and health literacy, and optimize group visits for our diabetic patients. Our residents lead structured community outreach programs for HOYA Student-Run Free Clinic, Reach Out and Read, Tar Wars, St. Ann's Center for Children, Youth and Families, strengthening ties with our surrounding communities.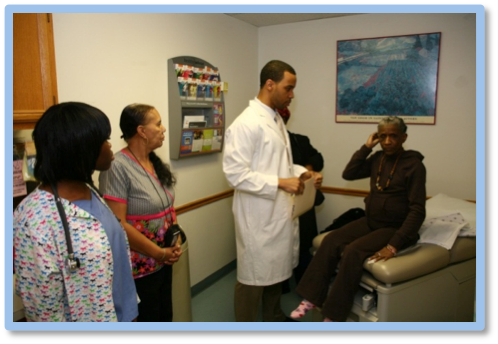 Fort Lincoln Family Medicine Center has more than 15% of patients more than 60 years of age, and matches continuity work with geriatric patients with a longitudinal curriculum managed by a group of board-certified Family Medicine Geriatricians.  The longitudinal curriculum includes didactics throughout residency, weekly geriatric rounds on the inpatient Family Medicine service, continuity patient care at Carroll Manor Nursing Home and Rehabilitation Center during PGY-2 and PGY-3 years, and home visits in the DC Metro community accompanied by a faculty geriatrician. The curriculum culminates in a geriatric 4-week block rotation in the Providence Health Services Geriatrics practice.
Health Systems Management Curriculum
As an NCQA Level 3 Patient Centered Medical Home, Fort Lincoln Family Medicine Center offers an ideal setting for learning experiences in practice management. The curriculum begins in intern orientation with introductory sessions on billing and coding, and quality improvement. Residents play an active role in quality improvement projects, conducting a group projects as interns, individual projects as third year residents, and quarterly projects with interprofessional teams.  Residents on the health systems management rotation attend quality and safety committee meetings for Providence Hospital ambulatory practices, and gain experience in population management, peer review and risk management.  A didactic series also reviews career planning, contract negotiation, and PCMH recognition.
Providing full-spectrum care to our patients from Fort Lincoln and community partner practices is an important part of Family Medicine training.  A diverse, underserved patient population and one-on-one relationships with hospital specialists contributes to a rich training experience. 3 to 5 Residents (at least one intern, one second year and one third year resident), an attending Family Medicine physician and 2 to 6 medical students round daily on patients.  Academic segments include Resident Case Presentations, Geriatric Rounds, Radiology Rounds and EKG/OB Strip Rounds. Every month each senior resident and intern presents a case during Thursday morning resident didactics in a grand rounds format.
Our program implemented an approach to leadership and professional training for our residents during our PCMH transformation. This team model builds interprofessional collaborative practice skills by learning to lead and manage multidisciplinary teams with a faculty member acting as a mentor and coach. Core areas covered in our curriculum are: leadership, communication, team dynamics, personality preferences, team management, coaching, and project development.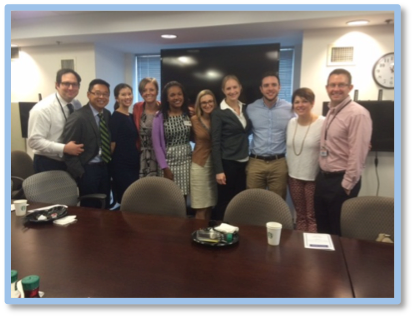 Patient Communication Curriculum
Our longitudinal curriculum provides video-feedback on patient visits to improve communication skills using a 360-degree evaluation process. We partner with the Georgetown University Department of Communication, Culture and Technology, and the Center for New Designs in Learning and Scholarship with a blog site for structured peer- and self-evaluations.  The curriculum features didactics on patient-communication, health literacy and cultural competence, 1:1 precepting, and video-feedback with 360-degree blog evaluations.  Interprofessional group visits also feature 360-degree feedback including patients, to develop effective communication skills.
Residents rotate in Sports Medicine at the Georgetown University Student Health Center and Fort Belvoir Community Hospital.  Georgetown University Student Health Center serves more than 17,000 students, and provides comprehensive primary care and sports injury services to both undergraduate and graduate students. Residents rotate at the Student Health Center with two fellowship-trained Sports Medicine family physicians, who support the Department of Athletics.  Staffing athletic events with our sports medicine faculty is an exciting opportunity to experience hands-on Sports Medicine.