Primary Care Scholarship Program
Our Primary Care Scholarship Program is an opportunity to support GUSOM and GUSON students choosing underserved primary care clinical experiences and health equity research.
Congratulations to our 2023 AHEC Tuition Scholarship Recipients!
---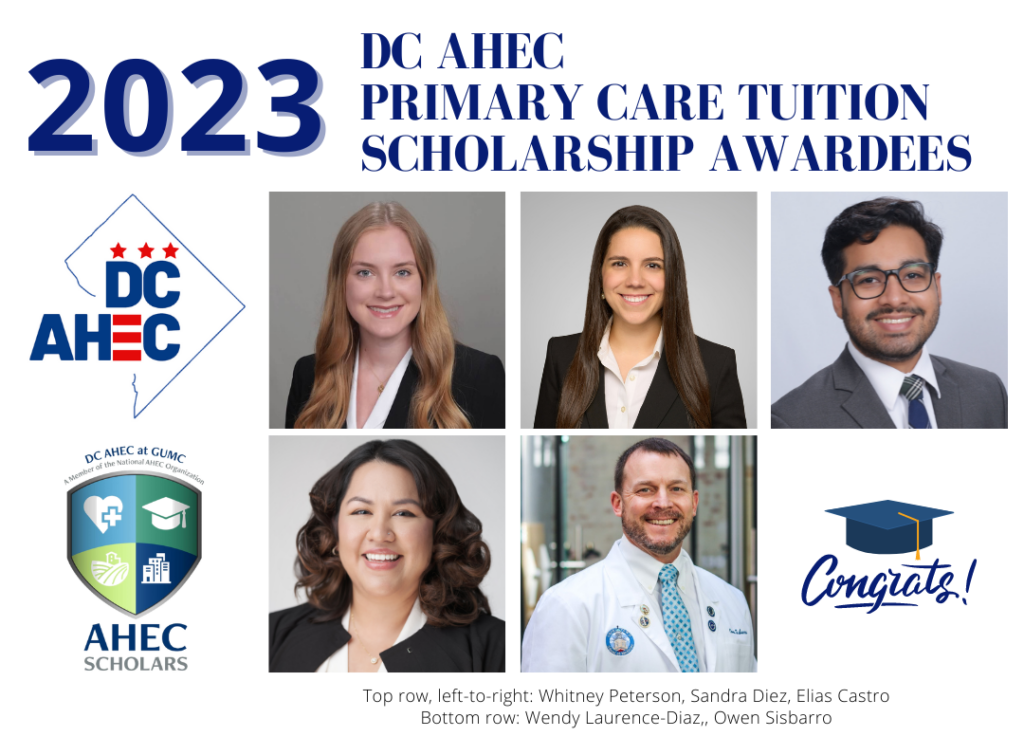 Scholarship Programs
1. M4 Primary Care Tuition Credit Scholarship (up to $15,000)
Eligibility – Rising 4th Year Medical Students participating in the national residency match program apply in the summer; Students MUST match into a primary care specialty (as defined by HRSA: Family Medicine, Internal Medicine, Pediatrics, Med-Peds) on match day in order to receive this award.
2. GUSOM SON Primary Care Scholar Award ($1,000)
Eligibility – APRN students who plan to complete a clinical experience in Primary Care rotations in Family Medicine, Pediatrics, and Internal Medicine at our underserved partner sites.
3. GUSOM M3 Primary Care Clerkship Scholar Award ($1,000)
Eligibility – GUSOM M3 students interested in completing their FM, IM, or Peds rotation at an AHEC underserved partner sites or rural/IHS away site may apply for the award.
4. AHEC Summer Research Scholars ($4,800)
A subset of the MedStar Health Summer Scholars Program is the AHEC Summer Research Scholars program. Research projects focus on health disparities and primary care, and educational
initiatives impacting medical education. AHEC Scholars will have opportunities for clinical
shadowing, and learn about core topic areas in social determinants of health, behavioral health, cultural humility, interprofessional education, practice transformation, COVID-19, and opioid use disorder. By the end of the summer, each scholar will have at least 40 hours of clinical experience and 40 hours of experiential or didactic learning experiences in core topic areas to
meet the requirements of becoming an AHEC Scholar. The weekly hourly commitment is
consistent for all MedStar Summer Research scholars. Students will also be mentors for AHEC pathway programs during the summer, as well as be eligible for conference scholarships like the AAFP National Conference.