Family Medicine Interest Group
Welcome!
The Georgetown Family Medicine Interest Group (FMIG) is a student-run organization that is supported by the Department of Family Medicine and the American Academy of Family Physicians. We have created a supportive environment for medical students to explore Family Medicine as a field, learn more about career opportunities in Family Medicine, develop personal relationships with Family Medicine faculty and residents, learn clinical skills and have some fun.
Faculty Advisor: Monica Ajinkya, MD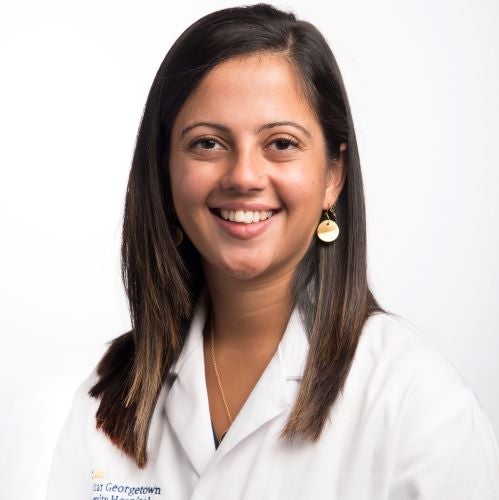 Monica Ajinkya, MD grew up in Northern Virginia, moved outside of Philadelphia for college and then ventured further north to the Bronx for medical school before she found herself back home in the DMV, where she completed her residency in Family Medicine at Georgetown, followed by a fellowship in health policy. Her clinical interests involve full spectrum primary care, with a focus on caring for urban underserved patients and women's reproductive health. Her research interests are in social determinants of health and eliminating health care disparities, firearm violence prevention, medical education, primary care spend, physician executive leadership, and vulnerable populations. In her free time, Dr. Ajinkya enjoys cooking, playing with her nephews, and daydreaming about her next trip abroad once this pandemic ends.
How Do I Join?
Email gusom.fmig@gmail.com with your name and email address to be added to the FMIG list serv. You will receive emails regarding our upcoming events and activities along with many other research, community service and conference opportunities. 

To learn more about the benefits of joining a FMIG please visit the AAFP FMIG Network page.

Additionally, if you are interested in Family Medicine or just want to learn more you can visit the AAFP Choose More – Choose Family Medicine page (new window), and also join the AAFP (new window) as a student member! It is free for students, very easy to join, and it helps us!

Monthly Calendar of FMIG Events: