Community of Scholars Health Equity Postdoctoral  Research Fellowship
Georgetown University Medical Center (GUMC), Department of Family Medicine is recruiting a Postdoctoral Research Fellow to join the Community of Scholars Health Equity (CSHE) Training Program. The CSHE aims to advance primary care and health equity by developing and enhancing research training opportunities for recruitment, retention, and success of diverse postdoctoral fellows interested in careers in biomedical and behavioral primary care research and increasing the number of researchers focused on transformative interventions for health care delivery by increasing pipeline, academic, and community engagement to disseminate trainee research findings.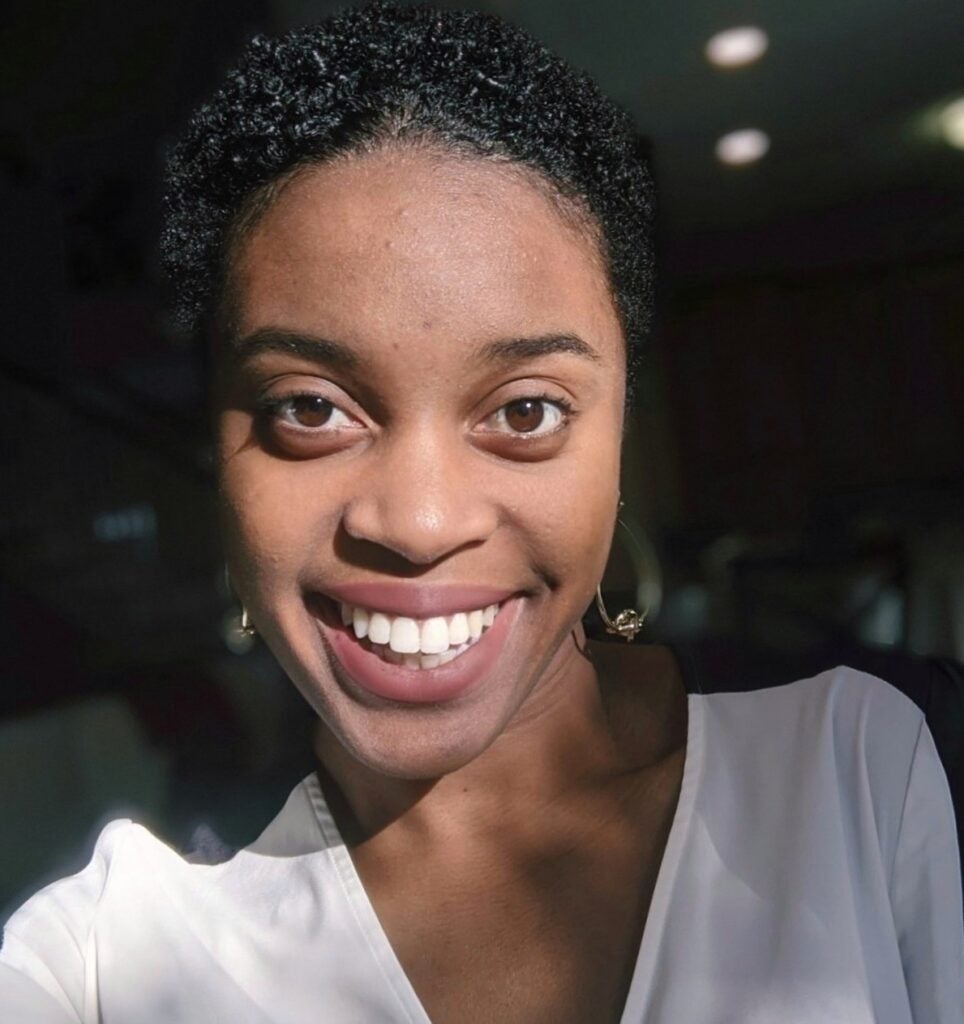 2021 – 2023 Postdoctoral Fellow
Kristin Paterson, PharmD is a 2019 graduate of Florida A&M University's College of Pharmacy and Pharmaceutical Sciences. While in school, she served as a Health Equity Research Institute Scholar, where she studied gene expression variance between African American men and Caucasian American men in prostate cancer. Upon graduation, she completed training as a Fellow in Early Phase Oncology Clinical Trials at the Novartis Institutes for BioMedical Research Inc.. She ultimately returned to academia at Georgetown University to work with the National Cancer Institute Community Oncology Research Program. Dr. Paterson hopes to use her experience to continue to be a health equity advocate for minority and underserved populations. In her free time, she enjoys traveling and trying new cuisines with her husband and playing with her dog Okja.
Fellowship Information
As a fellow, you will have the opportunity to choose research mentors from the Department of Family Mentors, MedStar Center for Health Equity Research (MCHER), and the Robert Graham Center (RGC) for Policy Studies in Primary Care to advance health equity for populations in the Washington, DC metropolitan area. Your pivotal work will be to examine the implementation and effectiveness of interventions and delivery systems for:
Preventing and reducing maternal mortality
Transforming the workforce by targeting primary care research on social, behavioral, and medical needs related to chronic diseases and mental health
The position is full-time, for at least two years, with renewal after the first year pending satisfactory performance, research proposal, and funding. Fellows will dedicate two years to the program with required coursework from GUMC Biomedical Graduate Education (BGE), NHS, and NIH, with a funding option for a Master of Health Systems Administration or Public Policy degree and teaching and mentorship roles for graduate school learners at NHS, GU School of Medicine (GUSOM), primary care residents at the MedStar GME Consortium, and pipeline students in high school, college, and post-baccalaureate programs.
This position is primarily a training position in which the incumbent plays a substantive role in planning and conducting research using quantitative and qualitative methods to collect, analyze and report data. In collaboration with the Principal Investigator, and research mentors, this role will participate in independent research, analyze and interpret data, publish results, represent the University at conferences and meetings, and may develop new theories and methodologies. This position will also help the Principal Investigator lead and direct the work of pipeline student research. This role performs work under the supervision of experienced researchers. Remuneration will be competitive and based on qualifications.
Essential Duties and Responsibilities
Conducts high-quality research in the area of interest;
Works closely with graduate and undergraduate students and contributes to joint projects;
Participates in teaching and outreach activities and programs;
Presents and publishes research findings at conferences and peer-reviewed publications;
Prepares progress reports for the funding sources;
Seeks external funding to support and expand research activities to enhance the prestige and visibility of the University and to initiate research projects with government, private sector and public entities and the community
Minimum Job Requirements
Ph.D. or DrPH public health, health education, epidemiology, biostatistics, or health systems administration fellows, and Ph.D. or PsyD clinical psychology by the time of appointment
no more than 3 years of postdoctoral research experience by the start the fellowship
Fellows will report directly to Fellowship Director and Chair of the Department of Family Medicine, Michelle Roett, MD, MPH, FAAFP, CPE and will collaborate with other members of the GUMC and MedStar Georgetown University Hospital community:
Together with our members, we are working to transform the future of primary care research and health equity by delivering a compelling fellowship experience committed to supporting mentorship and career development!
About You:
Highly self-motivated and proactive, with exemplary problem-solving skills.
Demonstrated ability to work independently as well as with teams
Strong oral and written communication skills
Knowledge of human subject research
Experience with biostatistics and data analysis preferred
Demonstrated evidence of scholarly research
Interest in producing research publications
Ability to work with the research team and supervise undergrad and graduate students
Condition of Employment: This is a sponsored program appointment. The initial term and duration of this appointment are subject to funding availability. The position is a Georgetown University position compliant with NIH NRSA Postdoctoral Research Fellow salary rates based on years of experience.
What We Need From You:
Cover letter briefly describing prior experience/training and current/future career goals
Curriculum Vitae
Relevant preprints or publications
Three professional references – names and complete contact information
Application deadline: June 30, 2023
Contact Information: All inquiries related to this fellowship application should be directed to the Department of Family Medicine familymed@georgetown.edu.