Area Health Education Centers (AHEC)
AHEC programs were developed by Congress in 1971 to recruit, train and retain health professionals committed to underserved populations. The AHEC program helps bring the resources of academic medicine to address local community health needs. Currently, there are approximately 56 AHEC programs with more than 235 centers in operation in almost every state and the District of Columbia.
The AHEC mission is to enhance access to quality health care, particularly primary and preventive care, by improving the supply and distribution of healthcare professionals via strategic partnerships with academic programs, communities, and professional organizations.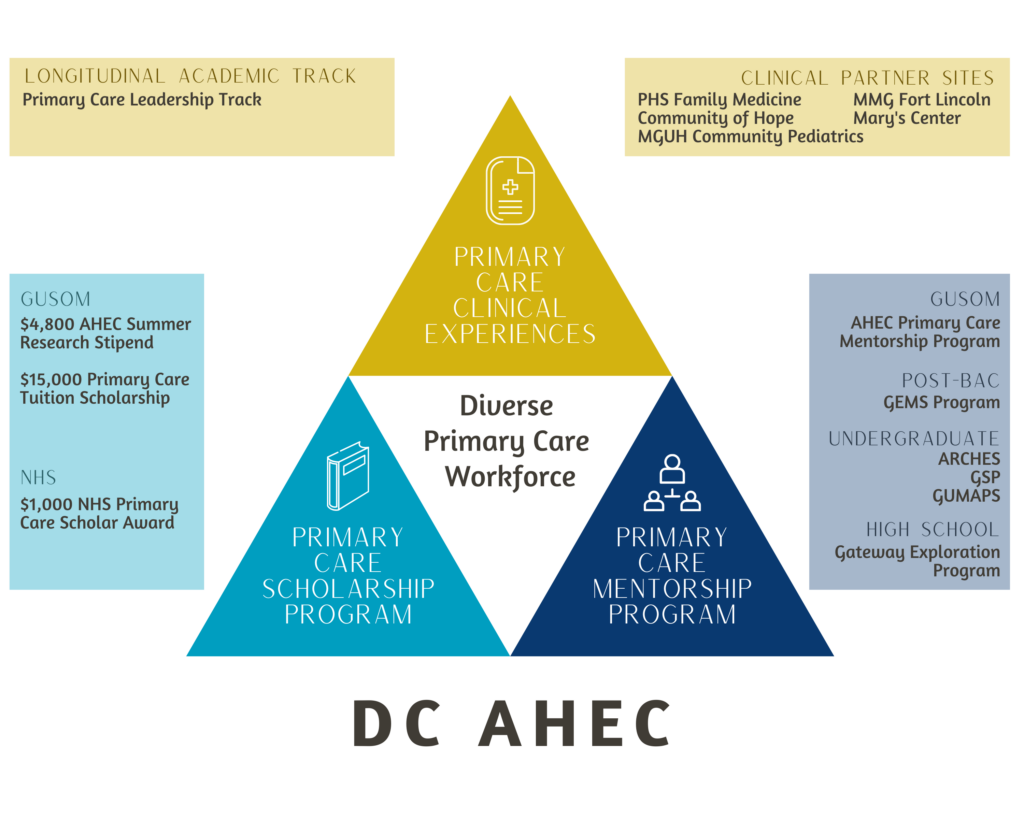 The AHEC and the District of Columbia
The District of Columbia Area Health Education Center (AHEC) network serves with the mission of meeting health workforce needs and improving the health of the public of the District of Columbia. The AHEC has a long history in the District of Columbia. As the newest Health Resources & Service Administration (HRSA) AHEC grantee, Georgetown University (GU) is committed to continuing to provide the services that have traditionally been associated to the AHEC.
Like other AHECs before it, DC AHEC is also committed to addressing the need to increase diversity in health care professions and to improve primary care workforce distribution in underserved areas. This goal will be accomplished by implementing an innovative pipeline and mentorship approach, employing comprehensive longitudinal education, and training for inter-professional AHEC Scholars to deliver high quality care to underserved communities.
The GU AHEC program is focused on:
Providing scholarships for students committed to primary care.
Providing mentorship by practicing primary care clinicians.
Providing longitudinal community-based learning and clinical experience in underserved settings.
Providing leadership training, research, and education on health disparities and health.
This project is supported by the Health Resources and Services Administration (HRSA) of the U.S. Department of Health and Human Services (HHS) as part of an award totaling $722,740 with 50% financed with non-governmental sources. The contents are those of the author(s) and do not necessarily represent the official views of, nor an endorsement, by HRSA, HHS, or the U.S. Government. Please visit HRSA.gov.