FMIG Student Leadership
Current Leaders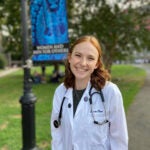 Lauren Clore graduated from Tufts University in 2020 with a major in Biology and a minor in Religion. Following undergrad, Lauren worked as a research assistant at Brigham and Women's Hospital in Boston on COVID-19 vaccine development and with Newton-Wellesley Hospital on the All of Us Research Program to advance healthcare research through the development of an inclusive health database. Her current interests in medicine include pediatrics, women's health, and health justice. Lauren is from the Bay Area in California, and in her free time she enjoys hiking, cooking new recipes, and cultivating her indoor garden.
---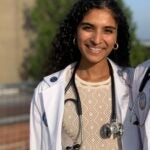 Tara Mathias-Prabhu is a first-year medical student who is passionate about reproductive justice, health equity, and community health. She is a graduate of Georgetown University's Global Health program, where she had the opportunity to conduct research on the uptake of antimalarial treatment among pregnant women in Tanzania. Tara is also a certified lactation counselor (CLC), and previously worked on obesity prevention and community-based breastfeeding promotion initiatives prior to starting medical school. In her free time, Tara enjoys making too many playlists on Spotify and painting outside.
---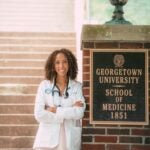 Ashley Owens is a graduate of Virginia Commonwealth University, where she received her B.S. in Biology and minor in Chemistry. Additionally, she received an MS in Medical Sciences from Hampton University in 2020. Her interests in medicine include preventative medicine and global health. Ashley enjoys spending time with her friend and family, running trails around DC, and taking her dogs to the beach.
---