Health and Media Fellowship
In this one-year fellowship, fellows explore the relationship between media and health, with a special focus on family medicine and primary care, and their intersection with public engagement, health communication, and mass and social media. Fellows will spend 40% of their time with a media organization (placements include ABCNews, PBS NewsHour, National Public Radio (NPR) and assist with day-to-day health news production, writing and interviewing. Fellows will collaborate with faculty members who regularly engage in medical writing, reporting, editing, and blogging. They will practice part-time in one of our affiliated Family Medicine clinics and participate, on a regular basis, in faculty development training, medical student and resident teaching. (Dr. Ranit Mishori, Director).
2017-2018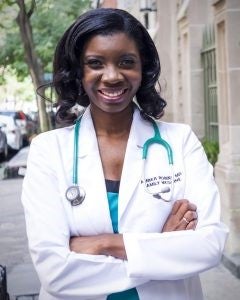 Amber Robins, MD graduated from the University of Rochester Family Medicine Residency Program. She also recently graduated with her MBA from Louisiana State University. Amber practices at the MedStar Health Family Medicine at Spring Valley office, and is working the rest of the time with our partners at PBS The Newshour. Dr. Robins is spending some of her time in the network's DC bureau participating in editorial and production meetings, gathering information on assignments in the field and contributing to online reporting. (Dr. Ranit Mishori, Director). Some of her writings can be found here https://www.pbs.org/newshour/author/dr-amber-robins. She hopes to be able to bridge the gap between media and medicine in the coming year with a focus on health care disparities. When not practicing medicine she enjoys listening and playing music on the piano and saxophone. She also likes to spend times with family and friends.
Previous:
LaTasha Seliby, MD (2015) is from Biloxi, MS, attended medical school at the University of Alabama, Birmingham, and completed her residency at Spartanburg Regional Family Medicine Program in Spartanburg, SC. Dr. Seliby was chosen as the 2015 STFM New Faculty Scholar for the FMCC, presented a poster at the CENTILE 2015 Colloquium, and served as a Washington Redskins Cheerleader Ambassador for the 2015 season. She has authored a number of articles that have appeared in the Washington Post, World News, and Good Morning America. Dr. Seliby is interested in alleviating health care disparities, patient advocacy, and health education through the use of media and mass communication. Dr. Seliby, under guidance from Fellowship Director Dr. Ranit Mishori, coauthored two articles for the Washington Post Health Section. Among other activities, she participated in advocacy and media training, offered advice to students on interviewing and talking to the media, and helped craft a position paper on obesity for the Congressional Black Caucus.