Specialty Respect Community of Practice
The Specialty Respect Community of Practice (SRCoP) at Georgetown University provides a forum to promote a culture of specialty respect in medical education and to explore potential solutions for eliminating specialty disrespect in the learning environment.
"Specialty Disrespect (SD) is one element of the hidden curriculum, encompassing unwarranted, negative, and denigrating comments made by trainees and physicians about different specialties."

Alston et al., 2019
About the Community
The Department of Family Medicine Specialty Disrespect Taskforce was formed in January 2020 with the goal to make recommendations to the department to reduce specialty disrespect at Georgetown University School of Medicine including increasing awareness and developing a plan to respond to specific incidents. The task force was comprised of faculty, residents and staff of the department as well as the members of the Office of Diversity, Equity, and Inclusion. The members of the task force have met biweekly over the years and worked on various projects such as literature review, poster campaign and stakeholder interviews.
To continue this work and because of increased interest outside the department, we formed the Specialty Respect Community of Practice in January 2023.
"Communities of practice are groups of people who share a concern or a passion for something they do and learn how to do it better as they interact regularly." (Wenger-Trayner & Wenger-Trayner, 2015 (new window))
Current Problems of Practice
Specialty Disrespect negatively impacts the learning environment and learners of all levels. Our community of practice asks the following questions. How might we:
define the culture of specialty respect in medical education
disseminate the value of specialty respect in medical education
identify strategies to encourage specialty respect at each level of the healthcare team
help individuals to identify and respond to specialty disrespect as a micro-aggression
envision a more respectful state of medicine
SRCoP Activities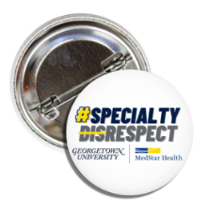 Exchanging resources, research, and ideas
Encouraging collaboration around specialty respect
Expanding awareness of specialty respect among specialties and roles
Resources
Virtual quarterly meetings
October 24, 2023, Noon-1pm EST
June 28, 2023, Noon-1pm EST