Robert L. Phillips, Jr. Health Policy Fellowship
Program Overview
The Graham Center and Georgetown University co-sponsor a one-year fellowship in health policy and faculty development. Fellows work with the Graham Center staff to address health policy questions of interest, culminating in a project for national dissemination.
For all Fellows, the year begins with exposure to primary care health policy data, developing research skills, and participating in all phases of research from conception through dissemination. Some elements of the Fellowship may be tailored to meet the specific interests of the individual.
The Fellow is introduced to various local and national organizations focused on public policy research, planning, and implementation, including health care leaders and community activists. Previous fellows have worked with the Agency for Healthcare Research and Quality, the Office of Disease Prevention and Health Promotion, the Pan-American Healthcare Organization, and the DC Department of Health.
Interested Fellows may also work with congressional staff members, policy think tanks, or professional organizations on writing and promoting health legislation.
Program Goals
To help fellows develop skills and knowledge to become clinical leaders in diverse settings of family medicine practice.
To prepare fellows for careers in academic medicine through faculty development activities and by teaching medical students and residents.
To educate future leaders in the development and promotion of primary care health policy, research, and publications.
Program Details
Stipend and Benefits
The annual stipend for the fellowship is $60,000 with 15 days of vacation. The Fellow will receive health and malpractice insurance, hospital admitting privileges, and other attending physician benefits. Support is also available for conferences and travel.
Qualifications
Board-certified/eligible family physician
Strong interest in health policy
U.S. Citizen or Permanent Resident
Relevant experience
Apply Now:
The application cycle is from September 1st to November 15th.
To apply, please submit the following application documents to the Fellowship and Medical Director of The Robert Graham Center- Yalda Jabbarpour, MD – yjabbarpour@aafp.org and cc: familymed@georgetown.edu
Letter of Intrest
CV
Three Letters of Recommendation
Please visit The Robert Graham Center for more information about the fellowship.
Alumni
2020-2021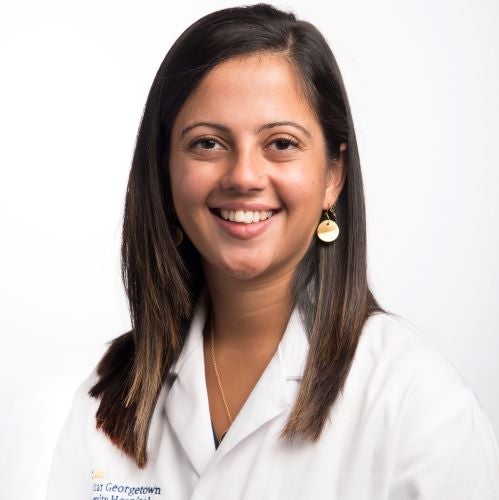 Monica Ajinkya, MD grew up in Northern Virginia, moved outside of Philadelphia for college and then ventured further north to the Bronx for medical school before she found herself back home in the DMV, where she completed her residency in Family Medicine at Georgetown. Her clinical interests involve full spectrum primary care, with a focus on caring for urban underserved patients and women's reproductive health. Her research interests prior to starting the Robert L. Phillips, Jr., Health Policy Fellowship are in SDOH and eliminating health care disparities, firearm violence prevention, and medical education, and she is excited to spend this year broadening those interests to include primary care spending and telehealth, as well as other topics that may come her way! In her free time, Dr. Ajinkya enjoys cooking, playing with her nephews, and daydreaming about her next trip abroad once this pandemic ends.
Previous:
Alison Huffstetler, MD, (2019) originally from Yorktown, VA, completed her undergraduate education at James Madison University in Harrisonburg, Virginia. She spent two years working in art galleries and restoration after which, she shifted direction and attended medical school at American University of the Caribbean School of Medicine with her clinical years in Baltimore, MD. She completed her residency training at the University of Virginia focusing on women's health, care for the LGBTQ+ community, and advocacy for family medicine – spending many days in the Richmond Capital building.
Robert Baillieu, MD, MPH (2018) came to us from The University of Texas Health Science Center in San Antonio where he completed residency in Family Medicine. Prior to this Rob lived in Australia, where he went to medical school and also undertook training in adult internal medicine. Rob is a board-certified Family Physician and when not practicing at Spring Valley, he works at the Health Resources and Services Administration, The Robert Graham Center for Policy Studies in Family Medicine and Primary Care, and also Georgetown University School of Medicine. Rob has a passion for teaching, multidisciplinary care, protection of the underserved and also health policy reform, and he hopes to be able to further his skills as an academic clinician, educator, advocate, and health policy agitator during his fellowship year. When not practicing medicine, Rob enjoys exploring new places, laughing with friends, reading, writing, going to the cinema, trying new restaurants, and advocating for change.
Hannah Jackson, MD (2018) came to us from Yale University where she completed her residency in Internal Medicine-Primary Care. Hannah will be practicing at one of Unity outpatient primary care clinics of the River) and working the rest of the time with our partners at the Robert Graham Center and HRSA. She hopes to be able to work on areas of health policy that directly impact her primary care patients including payment reform, quality metrics, and practice re-design in the coming year. When not practicing medicine Hannah loves to spend time outdoors, travel, and play ice hockey.
Julie Petersen, DO (2017) graduated from the West Virginia School of Osteopathic Medicine, and completed a Family Medicine residency program at Grant Medical Center. Julie is settling in to her hospitalist job with OhioHealth in Columbus, OH. She's using the flexibility of hospitalist life to do extra obstetrics shifts and continue pursuing her local and global policy interests.
Tyler Barreto, MD (2017) graduated from Michigan State University, and completed a Family Medicine residency program at Grand Rapids Medical and Research Education Center. Tyler moved to San Antonio to work at UT Health where she will continue her research in obstetric workforce issues and low value care. She is excited to also be seeing her patients at an underserved clinic and on labor and delivery.
Yalda Jabbarpour, MD (2016), now an Assistant Professor in the GUSOM Department of Family Medicine
Tracey Henry, MD, MPH, MS (2015), now an Assistant Professor at Emory University School of Medicine. Dr. Henry is a general internist in the Division of General Medicine and Geriatrics, where she provides primary care to the underserved populations in Atlanta, GA. She is an attending physician for the inpatient teaching services at Grady Memorial Hospital and Assistant Medical Director and supervising attending in the Primary Care Center.
Melanie Raffoul, MD (2015), now at NYU Langone Medical Center
John Parks, MD (2014), now a faculty member in the Department of Family Medicine at the Malawi College of Medicine
Laura Makaroff, DO (2012), now a Senior Clinical Advisor in the Bureau of Primary Health Care at HRSA.